Well, I have thought about starting a blog before, but never came to a decision until recently. Then, it was a matter of doing it. And now I have, and since I'm so bad at keeping a paper journal, I hope I will keep up with it. For those who don't know us very well, or are checking in for the first time in awhile, the Harmon Squad consists of me, Jackie or Jax (depending on where you know
me from), my husband Rob, and our 6 month old son, Maximillian, or Max. We
currently reside in Greensboro North
Carolina in an old house with many issues, but tons of character. Rob and I are both in school- Rob to study Computer Information Systems and Russian and me to study Interior Architecture. In addition to school, Rob works with his family and we are involved in our church. We are also fortunate enough to have both of our families nearby. So, we keep rather busy, and then on top of that we tend to keep to ourselves so we may seem pretty anonymous at times.

As for what we've done recently...
I have completed a couple of projects I took on after (or before...) Max was born- his quilt and mobile. I pushed myself to get them done recently as I figured if I waited any longer he'd be too big to enjoy them.
His quilt top was made by me, and then my mom (who happens to have a business quilting with a long arm quilting machine) quilted it for me.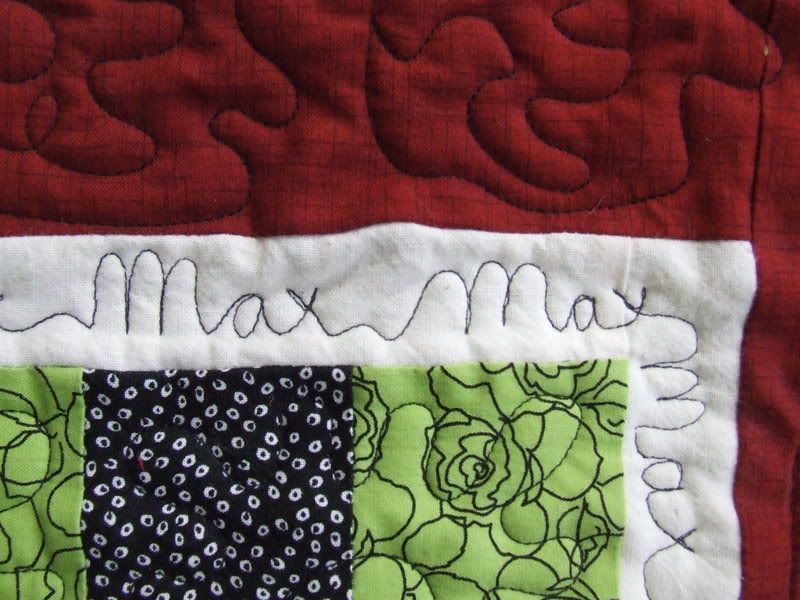 My absolute favorite part of it is the white border: my mom quilted his name into
it. After his quilt was finished (which surprisingly
didn't take as long as I thought it would, perhaps because it's a baby quilt), I worked on his mobile.
He has unfortunately been without one these
many months,
although I don't think it matters much since he doesn't spend much time in his crib (hopefully that'll start to change, but I wouldn't put any money on that as he's rather stubborn). For it, I folded 25 origami cranes out of aluminum foil (I REALLY don't recommend it- foil just isn't made to be bent along the same seam multiple times) and then hung them. Now they hang above his crib next to his nameplate and rhino batik his Aunt Paige made. I think it's kinda cool- what kid doesn't want a flock of birds hanging above their bed? Max seems to like it- he sang to them before demanding to get out of the crib. I can't blame
him- I'd rather not have my own personal prison either. He's such a social butterfly- he can't stand to be apart from people (hopefully that'll change) He didn't get that from me- I tend to be an introvert- I think in that aspect he takes after his dad. And speaking of his dad, Rob was wonderful enough to "babysit" Max so I could finish his mobile. What would I do without such a loving husband?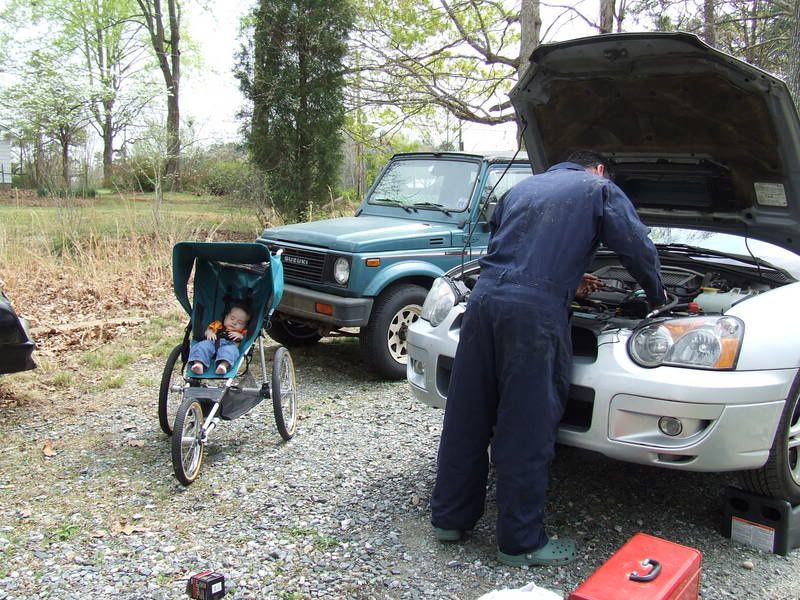 Max was lucky enough to nap outside in his uber cool jogging stroller while dad changed the oil in the car. And i guess that's it for now... I'm sure everyone is so pumped by our ultra exciting life. 'Til next time.
Arrivederci